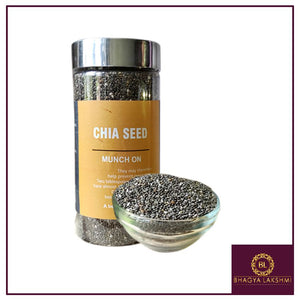 QTY in box- 200gm.
Chia is the edible seed of Salvia hispanica, a flowering plant in the mint family native to Central America.
 They are an excellent source of omega-3 fatty acids, rich in antioxidants, and they provide fiber, iron, and calcium. Omega-3 fatty acids help raise HDL cholesterol, the "good" cholesterol that protects against heart attack and stroke. 
They may, therefore, help prevent overeating. Two tablespoons of chia seeds have almost 10 grams of fiber. Diets high in fiber have been linked to weight loss. According to 2015 research, eating 30 grams of fiber daily may help you lose as much weight as if you followed a more complicated diet.